Welcome to Tangled Bank #94! My name is Felicia and this is my blog, Life before death, in which I write about secularism, science and bees, with the occasional digression into other things. You may notice that there has been a bit of a gap in posting lately, but I'm back in the game now. Should anyone want to know more about myself (unlikely as that may seem), there's an About link in the sidebar. But now, without further ado, let's get on with the carnival!
First out is Chris Patil of Ouroboros reporting on the development of anti-aging drugs that might for instance combat type 2 diabetes. Read "Sirtuin activators as anti-diabetes drugs, and beyond"!
Kentucky of the physics arXiv blog makes a few comments on the slightly frightening prospect of how little we actually know about how flu spreads. On a happier note, progress has been made on computer modelling of river deltas. Which makes me think of quantum computing and the way many sciences today seem to have reached a point where certain questions can be answered in theory but in practice; so many calculations need to be done that our computers can't handle it. The question is what's faster, waiting for the engineers to finish inventing quantum computers, or simply watching river deltas form…
The author of Common Sense probably describes "Brian May Not Like This" best: "The join between two recent stories about sea killings - the restart of whaling and the dumping of over-quota fish. Strangely linked via the musing of a guitar rock legend." The post answers my long-standing question of why it is that when dolphins hunt fish on a nature documentary, the music is happy and cheerful, but when a shark kills a seal that's a tragedy. Another entry contains a spot-on criticism of the way nature shows often portray life as perfectly adapted to its surroundings, when evolutionary theory tells us something else. Is this a passing trend, has it gotten better? I would like to think so.
Larry Ferlazzo's Websites Of The Day has a perfect website tip for those who are too busy to read blogs.
If I were categorising entries, Paddy K's would probably be sorted under "Human Behaviour". As we all know, Homo sapiens is a notoriously pattern-seeking animal, which has on occasion resulted in deities appearing in foodstuffs, to be sold on e-bay. (Is this where I confess that my significant other bears a striking resemblance to the popular image of "the bearded one", so much so that "Jesus" has actually become his nickname at Oxford? As a hardline atheist, I don't quite know what this says about my taste in men…)
Both DC Birding Blog and 10,000 Birds report on the International Ornithological Committee's attempt at standardising English bird names worldwide. John Beetham of DC Birding and Mike of 10,000 Birds speak highly of how important it is to take steps toward international understanding - but keep in mind there's quite a few birders out there whose mother tongue is something other than English! Until English really has become the first language of most of the world, perhaps we might as well just stick to latin?
Ed Yong of Not Exactly Rocket Science contributes with a post touching upon one of my favourite subject: Studying capuchin monkeys' sense of justice throws light on the biological foundations of morality. Clear evidence that a sense of justice exists in other species than humans indicates that morality is something we are born with and don't need to be taught from scratch.
Alvaro at SharpBrains brings us an interview with professor Robert Emmons, about how feeling gratitude makes you happier. What's more, nurturing gratitude apparently doesn't just enhance happiness and health, but also makes you a better person. Who would have guessed that being optimistic and looking on the bright side of life could have such positive effects? I may sound sarcastic, but in all seriousness, being positive is vastly underestimated as a way of improving your mental health. Whether this is because, as Emmons says, people feel uncomfortable because the subject feels "spiritual" or "religious", or simply because being cynical is more hip, well… I know what I believe…
MartinR of Aardvarchaeology points out that one of the best way to reduce our carbon emissions would be to fly less, and that the current system of longer flights being cheaper is absolutely insane. However, asking Americans to tax flying seems to me like asking North Koreans to denounce their president/god. The ones who aren't brainwashed into thinking the current system is fine will remain quiet for fear of being ostracised… I'm joking, I'm joking!
Greg Laden comments on a paper on "Extended Male Growth in Robust Austrolapithecus". I'll have to admit that I had to google that term (it's a kind of human-like primate)… The paper suggests a pronounced sexual dimorphism was present, with males growing to larger sizes than females like in for instance gorillas. Laden comments that they fail to consider the option of trimorphism like that of orangutans, where males come in a large and a small morph. What I wonder is, how does this affect our view on human evolution? Is this dimorphism or possibly trimorphism related to the dimorphism we observe in Homo sapiens?
Archaeozoology contributes with a very educational post on avian osteopetrosis. Note, petrosis, not porosis. There's an important difference and mistaking one for the other (because you're tired and not reading carefully enough) may lead to much confusion…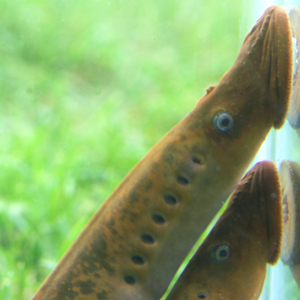 Another favourite subject of mine, the evolution of certain complex systems that are sometimes referred to as irreducible, is brought up by Ian from Mystery Rays from Outer Space. "Same trip, different routes: lamprey immunity" takes a look at how the immune system of sharks didn't have to appear all in one go, but may have been adapted from functioning systems lacking certain parts – such as those in lampreys and hagfishes.
To quote John Cleese, "and now on to something completely different": It is said that all biologists suffer from physics envy. Personally I seem to suffer from a general physics-and-maths-o-phobia. That's why we need people like John Wheaton who can explain things like zero-point energy so that even a biologist can understand it.
Finally, two entries from the Agricultural Biodiversity Weblog: Jacob van Etten writes about Monopsony, which refers to a market in which there is only one buyer, resulting in a reduction of agricultural biodiversity. (The mention of potential vineyards in Sweden seems highly amusing to a Swede in December.) Additionally, Luigi takes us on a tour to the International Maize and Wheat Improvement Centre.
That's all folks!